A few summers ago, on a warm Saturday morning, I stood in the back garden of an elderly neighbour, having volunteered my assistance to, as she termed, "get back on top of it." Based on that description, I expected a routine experience. I imagined there'd be some grass to cut, some plants to water and some weeds to pull.
There was no grass. There were no plants. There were no weeds.
There was only one thing in this garden: an ominous, looming labyrinth of brambles that rose higher than my shoulder.
I was one bloke with shorts, a t-shirt, a shovel and a trowel. It seemed I had gotten myself into something of a prickly situation.
The only marks I made that morning were those etched into my arms and legs; I was cut to shreds by thorns. By lunchtime, I was dehydrated, despondent and defeated. Sawing at brambles with the blunt edge of a trowel proved to be somewhat ineffective.
I trudged home and opened an internet tab. There, I read in an online gardener's manual that "once brambles are firmly entrenched, they are difficult to eradicate."
I quickly realised three things: I had the wrong help (none), I had the wrong tools and I had the wrong attitude. I could not do this on my own. I needed help. I swallowed my pride and sent out a cry for help on social media.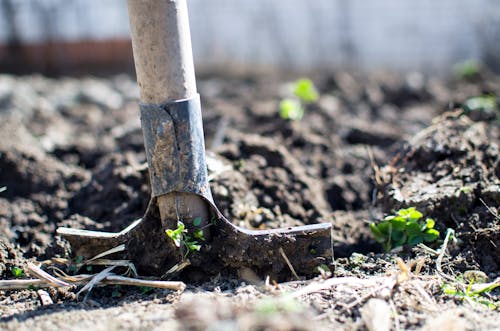 A week later, six of us came back. We had long trousers, boots, gloves, goggles and enough hardware to keep Homebase fully stocked.
With a determined, carefully orchestrated effort, those brambles receded, dismantled one piece at a time. It took all six of us to dig, twist and wrench until our muscles screamed, but finally, the roots of the bramble gave. What had once been an uncharted wasteland was now a clear plot, a garden full of potential.
Where are the brambles in your life? The ones so deeply rooted and entrenched that they feel difficult to eradicate? The ones that wake you in the small hours and choke your self-belief, suffocate your joy and strangle your possibilities? Do you ever feel as though you are staring at the uncharted wasteland of your life with no help, no hope and no idea where to start?
Don't do what I did – trying to uproot brambles like these alone, and with the limited tools that you possess, will cut you to shreds. They will require more than your strength alone. Call for help.
When you call for help, extra hands arrive. These hands carry knowledge, experience and tools that you don't possess. They uncover possibilities you may not see and open a vision you may have lost. They can help you cut away the pain of the past and clear the path to a new life – a garden full of fruitful possibilities. I am indebted to people who have helped me cut away brambles I felt I'd never be rid of.
Who has helped you cut away some of your brambles? Now would be the best time to reach out and thank them.
Whose help do you need to rely on? Now would be the best time to reach out and ask them.
Who can you help? Now would be the best time to reach out and help them.
In future seasons, you might be ready and able to help other people cut away their own brambles. Doing so will help you appreciate and better understand how to manage your own and serve as a way for you to repay those who once helped you. This is where, I believe, life finds its deepest joy – learning from those we can learn from and teaching those we can teach.
I've heard it said that when live gives you lemons, make lemonade. I've never tried to make my own lemonade – but I have heard that victory can be sweet. When, in future, life gives you brambles – you can always learn to make jam.